Fashion Revolution Week: Who made my clothes?
Events demanding a fairer, safer, cleaner and more transparent fashion industry spread around the globe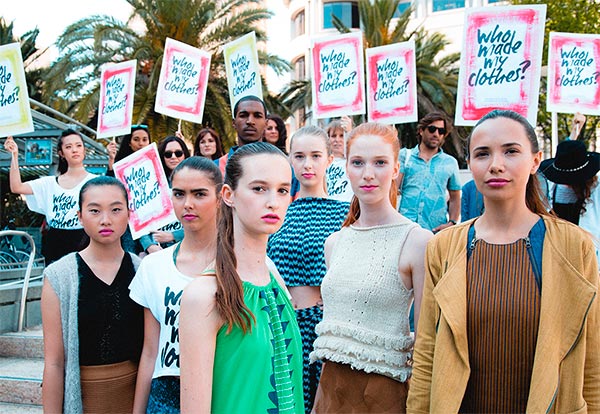 One Week to go! FASHION REVOLUTION WEEK is the biggest global movement dedicated to change the way the fashion industry works today and to demand safety, dignity and better labour and life conditions for the fashion industry workers. 
In this 4th edition, events and activities will take place around the world. From Poland to South Africa there will be workshops, film screenings, panel discussions, pop-up shops, clothings swaps… For the first time, this year they are adding Fashion Revolution Open Studios that will open up fashion studios to the public in different countries. 
On the 24th of April 2013 the Rana Plaza factory in Bangladesh collapsed leaving behind him 1138 deaths and 2500 injured people and revealing a sad truth, the conditions that fashion workers in Asia have to bear to provide Western consumers with cheap clothes. Fashion Revolution was founded after this disaster and its Revolutionary Week starts this day to honor the victims and remember why the movement started: to raise awareness of the need to consume in a responsible, respectful and concious way. 
Do you want to be part of the movement?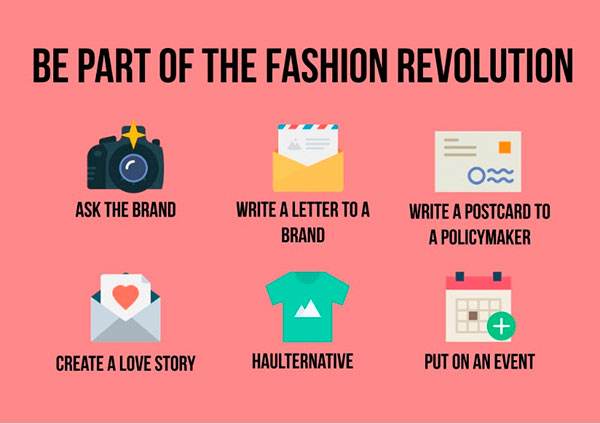 These are the different ways to get involved described by Fashion Revolution: 
"1. Ask #whomademyclothes. Be curious. Take a photo of your clothing label and ask the brand/retailer #whomademyclothes? When you speak, brands listen, so use your voice. 
2. Write a letter to a brand and ask them what they're doing towards paying fair wages. You can download and print a template from our website.
3. Write a postcard to a policymaker. Your voice matters, use it! Write a postcard to a policymaker and ask them what they're doing to create a fairer, safer, cleaner and more transparent fashion industry. 
4. Create a love story. Take a stand against disposable fashion and create a Love Story about an item of clothing you cherish and will never throw away!
5. Try a #Haulternative Take part in our #haulternative challenge and update your wardrobe without buying new clothes. Choose from vintage, 2nd-hand, clothes-swapping, DIY and more!
6. Go to an event Check out our online calendar for events happening near you, from workshops to film screenings, catwalks and panel discussions. Or why not put on your own event? Submit your event details here. 
7. Donate To continue to grow Fashion Revolution as a global movement for change, we need your financial support. Please donate and help us keep going from strength to strength."
Read here more information about how you can get involved and take action. Remember Fashion Revolution's motto: Be curious, find out, do something!
Activities in Barcelona
SUSTAINABLE FASHION DAYS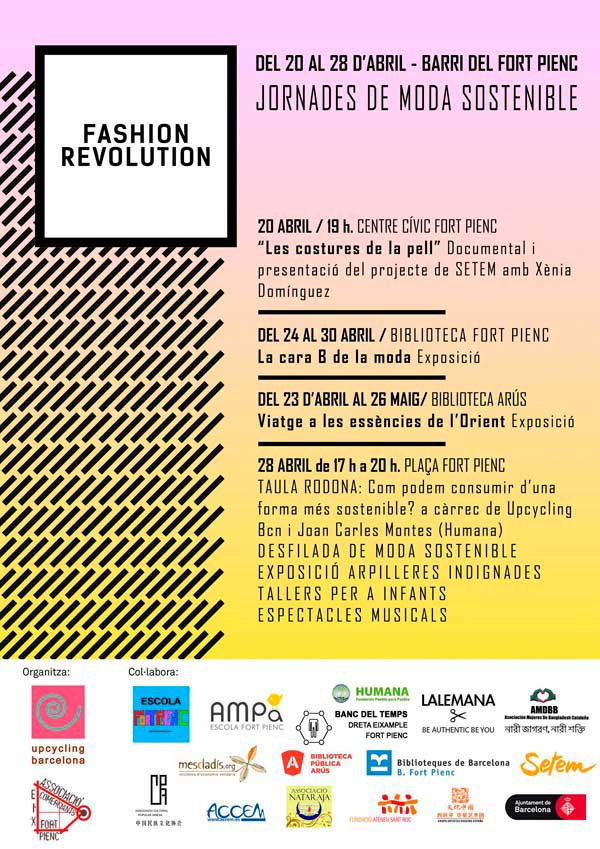 Organised by the platform Upcycling Barcelona with the help of many organsations and associations from the Fort Pienc neigborhood, the Fashion Revolution Days will host activities during eight days: 
20th of April, 7pm
–Screening of the documentary Les Costures de la pell.  Presentation by SETEM, the federation of NGOs behind the project. 
24th-30th of April
–Exhibition La cara B de la moda.
23th 26th of May
–Exhibition Viatge a les essències de l'Orient (Journey to the essence of the East).
28th of April:
–Round table: How can we consume in a more sustainable way? with Upcycling Barcelona,  the slow fashion stylist Indigo by Laure and Humana foundation.
–Sustainable catwalk with non-professional people as models holding signs "Who made my clothes?". A group of women from Bangladesh with signs "I made your clothes" will close the catwalk. 
WHEN: From 20th to 28th April.
HOW:  Free entrance.
WHERE: Different locations in the Fort Pienc neighborhood.

FASHION REVOLUTION DAY

Organised by the association Moda Sostenible Barcelona, the Fashion Revolution Day consists in three activities:
–A draw in which all attendees could win prized granted by the Moda Sostenible associates: Monica Noguero de Edició Limitada, Rakel Archer Accesorios, Miu Sutin, Sylvia Calvo BCN – Moda Sostenible, Lady Sweet, Firiri_eu and Moves To Slow Fashion.
–Screening of the shortfilm Un preu massa alt about the violence against women and the lack of transparency inside the fashion industry. Made by SETEM and produced by  No Dust Film (both authors of the another documentary about fashion, Les costures de la pell). 
–Panel discussion with the participation of the designer LURDES BERGADA, Núria Espinach from Art and Seams, Raju Thapa from Firiri_eu, Mónica Melero from Moves To Slow Fashion and the journalist Mar Rocabert.
WHEN:  24th April, 18h a 20h.
HOW:  Free entrance with previous registration here.
WHERE: BAU, Centre Universitari de Disseny.